---
Premium select Briskets & Tri Tips are smoked in an old-fashioned BBQ pit hauled all the way from the great State of Texas!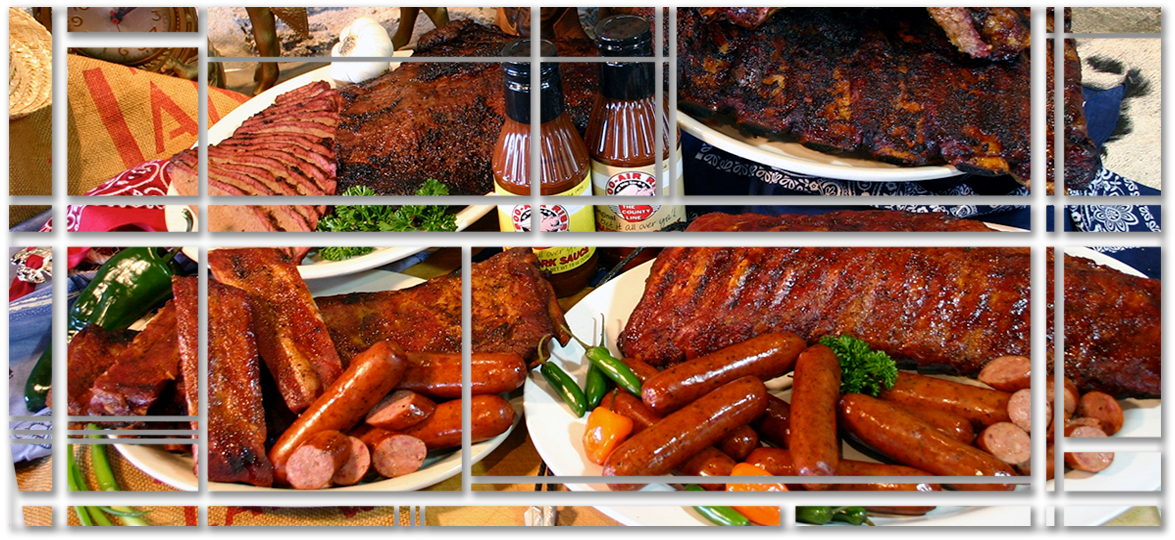 ---
Take-out Menu
Save time and call your order in to pick. Al fresco Dining Menu available outside.
(YES INDOOR DINING)
Sandwiches
All sandwiches served on garlic bread & comes with a choice of side.
| | |
| --- | --- |
| Brisket | 14.00 |
| Tri-Tip | 14.00 |
| Chicken Breast | 12.00 |
| Pulled Pork | 12.00 |
| Hot Links | 12.00 |
| Hot Dogs | 6.00 |
| Two Meat Sandwich | 17.99 |
Sides
| | |
| --- | --- |
| BBQ Baked Beans | 3.00 |
| Mac-N-Cheese | 3.00 |
| Coleslaw | 3.00 |
| Potato Salad | 3.00 |
| Collard Greens | 3.00 |
| Garlic Roll | 3.00 |
| Soda & Water | 1.00 |
Dessert
| | |
| --- | --- |
| Peach Cobbler w/ Ice Cream | 5.00 |
| 7 Upper Cake | 4.00 |
Lunch Plates
All plates include a choice of side & garlic roll,
| | |
| --- | --- |
| Brisket | 16.00 |
| Tri-Tip | 16.00 |
| Chicken Breast | 14.00 |
| Pulled Pork | 14.00 |
| Hot Links | 14.00 |
| Ribs (St. Louis Style Baby Back) | 18.00 |
| Two Meat Plate | 17.99 |
By the Pound
| | |
| --- | --- |
| Tri-Tip, Brisket | 19.99 |
| Chicken Breast, Texas Links, Pulled Pork | 18.99 |
| Extra Sauce (2oz) | 0.25 |
| Extra Spicy Sauce (2oz) | 0.25 |
BBQ
ANY 2 MEATS, ANY 2 SIDES, GARLIC BREAD, SAUCE
PICK UP CATERING
ANY 2 MEATS, ANY 2 SIDES, GARLIC BREAD, SAUCE, (SERVING UTENSILS NOT INCLUDED)
MEATS:
SPARE RIBS, CALI-TEX TRI-TIP & BRISKET MIX, SMOKED PULLED PORK, CHOPPED CHICKEN MIX, SMOKED SPICY LINKS
SIDES:
BBQ BEANS, POTATO SALAD, SLAW, COLLARD GREENS, MAC'N CHEESE, GREEN SALAD, GREEN BEANS, GARLIC PASTA
---

---
Homemade Desserts
PEACH COBBLER, SWEET POTATO, BANANA PUDDING, 7 Upper Cake
THANK YOU FOR YOUR BUSINESS